We are thrilled to be launching our volunteer portal for the Mundi Mundi Bash 2024 (August 15 – 17)! We'd love you to join us as part of the Mundiville volunteer crew. 
All volunteer positions have now been filled. If you submitted an application, please allow several weeks for our team to get in touch. If you missed out, we encourage you to subscribe to our volunteer mailing list and check the Volunteer Application Portal regularly for any spots that may become available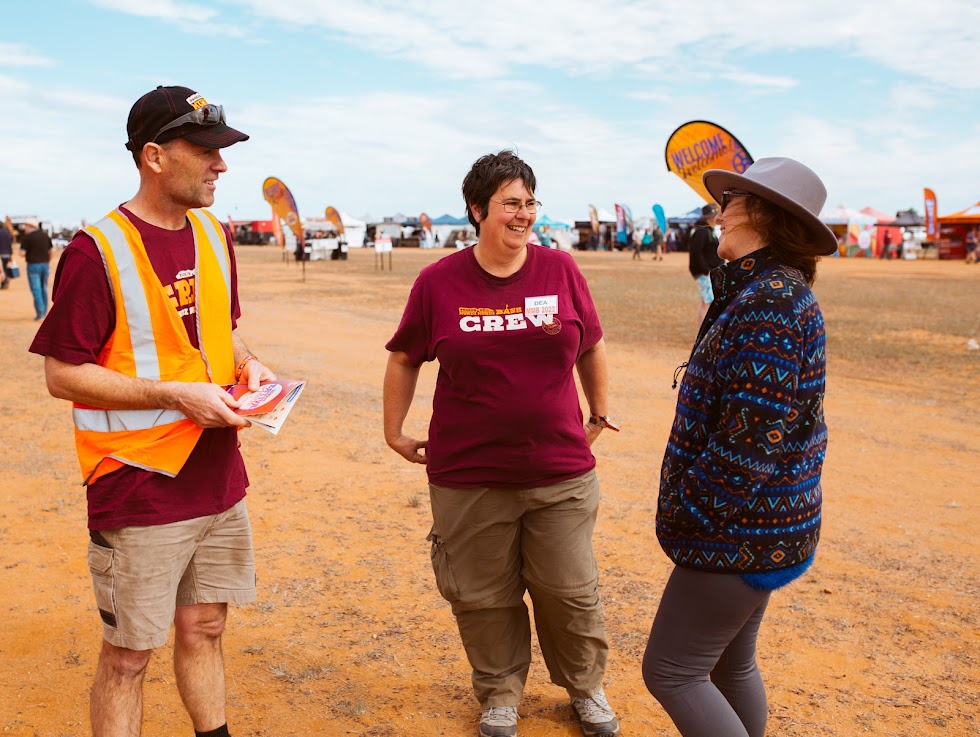 Volunteering at the Mundi Mundi Bash is a great way to get involved behind the scenes at Australia's most remote music festival. It is also a more affordable means of attending the Bash while getting to meet loads of like-minded people who come from all walks of life, all sorts of backgrounds and who bring a huge range of diverse work experience to the event. In return our volunteers become part of an inclusive, fun-loving crew, and leave the Bash with unforgettable experiences – and often new friends for life.
The concert venue is 40km west of Broken Hill on the edge of the Mundi Mundi Plains. There is no electricity, mobile phone reception or water. There will be food vendors selling food while the concert is operating. We also provide composting loos in the volunteer camping area.
What you can expect from us
A ticket to the three days of the concert PLUS early entry camping. If confirmed as a volunteer, you will not need to buy a ticket.

Early access to the Merchandise Tent, before patrons arrive on site.

Opportunity to be part of an event in the NSW Outback.

A camping spot in the volunteer camping area.

A free Bash crew shirt, Bash cap or beanie, Bash souvenir program, Bash tube bandana and Bash tote bag.
A post thank you event with nibblies and a drink in the Greenroom.

Thorough training in your role and room for growth to other positions in future years.
Volunteers are fully supported by our professional team of event organisers which includes qualified risk and safety experts, a qualified electrician and professional production crew.
You can view more information about your role as a volunteer here.
Due to the remote location of the Mundi Mundi Bash, our volunteers need to be self-sufficient for the duration of your time in Mundiville. These are the things you will need to consider:
VOLUNTEERING WITH CHILDREN AND YOUTH
Volunteers are welcome to bring their children with them to the event however, you will need to purchase tickets for them. Anyone under 18 cannot sign on as a volunteer. This means children and youth will need to hold the appropriate tickets if they are coming with you to the event. 
To secure either of these tickets, please get in touch with the volunteer management team. For most positions your children cannot accompany you during your volunteer shifts. You will need to make other arrangements for them while you are on shift.
Dogs cannot accompany volunteers on their shifts. Dogs must be looked after by responsible person(s) during those times. Volunteers bringing dogs to the event, please ensure you read and follow the Dog Attendance Rules.
You need to be self-sufficient with your own transport on site. We anticipate that most volunteers will have their own cars – and for some shifts it is a requirement (your volunteer bundle will outline which shift requires a vehicle).
Alternatively, you can find other volunteers via our Volunteer Facebook Group and make contact about car-pooling, however it is not guaranteed you will find an appropriate person to carpool with. Once vehicles are inside the campsite there is a strict no driving policy. Volunteers who need to drive to get to their shift will be exempt from this and will be provided with a vehicle pass.
Check out our Transport Options for a number of ways to get to the Mundi Mundi Bash.
You need to bring your own camper, van, tent, swag or similar. Once you arrive at the event, you will be directed to the volunteers camping area within the event grounds.
You need to be self-sufficient for your own food, water and camping supplies. There are supermarkets in Broken Hill but you probably won't want to be doing trips into town between your volunteer shifts and enjoying the festival. Silverton (13km from Mundiville) has a hotel and bakery although it's not always possible to get a meal in busy times. 
Please visit our FAQ's for more information.
READY TO START YOUR JOURNEY?
Existing ticket holders are not entitled to refunds on their tickets, so please consider this carefully before applying for a volunteer role.
To apply to volunteer visit our Volunteer Application Portal.